Scrap Foam Crusher Applications
Mutiple functions for crushing :Magnetic material, Plastic, EVA, PU Foam
4 Row fixed blades strong crusher with circulating water cooling system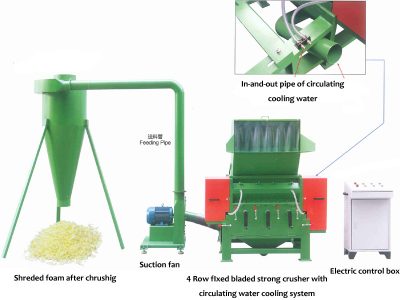 For all kinds of high and low density foam, foam leather scrap, cleaning cloth, waste cloth, bra foam and other waste polyurethane elastomer, rubber, plastic rubber elastomer, they can be crushed to Φ5-Φ50, which recycled as material of mattress, sofa, filing, vibraction, noise insulation, etc.
High density foam can be crushed into below Φ2mm, to produce a new hi-poly shoe pad instead of eva shoe pad, with features of shock absorption, breathability, moisture absorption, perspiration.
It is widely used for grinding and fining other material, such as soft/hard plastic, packages, sheets, coils, woods, electronic material, magnetic material, iron rubber block, etc.
| | | | | | | |
| --- | --- | --- | --- | --- | --- | --- |
| RCSS-3040AT | 15-20HP | 4Row*1PC | 3Row*1PC | 250*400mm | 350*650kg/h | 1*1.4*1.4m |
| RCSS-3860A | 30-40HP | 4Row*1PC | 3Row*1PC | 380*550mm | 400-700kg/h | 1.4*1.9*1.9m |
| RCSS-3865AT | 30-40HP | 4Row*1PC | 3Row*1PC | 380*650NN | 400-700kg/h | 1.5*1.9*1.9m |
| RCSS-3878AT | 40-50HP | 4Row*1PC | 3Row*2PC | 380*780mm | 650-900kg/h | 1.6*1.9*1.9m |
| RCSS-3890AT | 40-50HP | 4Row*2PC | 3Row*3PC | 380*900mm | 750*1000kg/h | 1.7*1.9*1.9m |
| RCSS-3810AT | 50-60HP | 4Row*2PC | 3Row*4PC | 380*1010mm | 900*1100kg/h | 2.1*2.0*2.1m |
| RCSS-4278AT | 50-60HP | 4Row*2PC | 3Row*2PC | 420*780mm | 900*1150kg/h | 1.7*1.9*2.2m |
| RCSS-4290AT | 60-75HP | 4Row*2PC | 3Row*3PC | 420*900mm | 950*1200kg/h | 1.8*1.9*2.2m |
| RCSS-42100AT | 60-75HP | 4Row*2PC | 3Row*4PC | 420*1010mm | 1000*1300kg/h | 2.2*2.0*2.3m |
| RCSS-50100AT | 75-100HP | 4Row*2PC | 3Row*4PC | 500*1010mm | 1300*1600kg/h | 2.4*2.2*2.4m |